The Problem
Whether you're a bank, retailer, association, or payment service provider, your business's bottom line relies on customer loyalty. Generating that loyalty can be a risky and costly endeavor.
The Solution
Our robust payment infrastructure and turnkey expense management solution enables fast, convenient, and secure card issuing while putting your customers in control of their expenses.
Core Features
Our solutions start with a robust card issuing infrastructure. Whether debit or credit, our modern applications allow quick and secure distribution of plastic and digital cards to any account member. This lets teams get up to speed quickly.
Custom Cards
Offer cards that stand out and enhance your clients' brands.
Teams
Cards can be distributed to individuals and teams, with instant approvals and tracking.
Spending Controls
Program administrators determine when and where members can spend.
Transaction Info
Get detailed information on every transaction in real time.
Expense Management
Managing expenses is a universal business problem. Reconciling expenses and paperwork can take hours for both employees and managers. Our award-winning expense management solution already helps companies and their employees accelerate their funding and expense reporting workflow. So they can focus on growing their business. These and other features can be tailored to fit your customers' specific needs.
Funding Requests
Respond in real-time to employee funding requests, or give employees pre-approved limits.
Card Suspension
Freeze and unfreeze cards to minimize risk when lost or not in use, or when employees leave the company.
Categorization
Employees tag transactions with expense categories, and upload receipt photos, directly within the app.
Reporting
Administrators see their team's expenses and can output transaction-level detail for use in Quickbooks, Freshbooks and other popular accounting applications.
Karmic Powered Solutions
Offer your customers and clients a Karmic solution to boost their business potential. With flexible distribution and pricing, and a range of customizable features, there's a Karmic solution to fit your needs.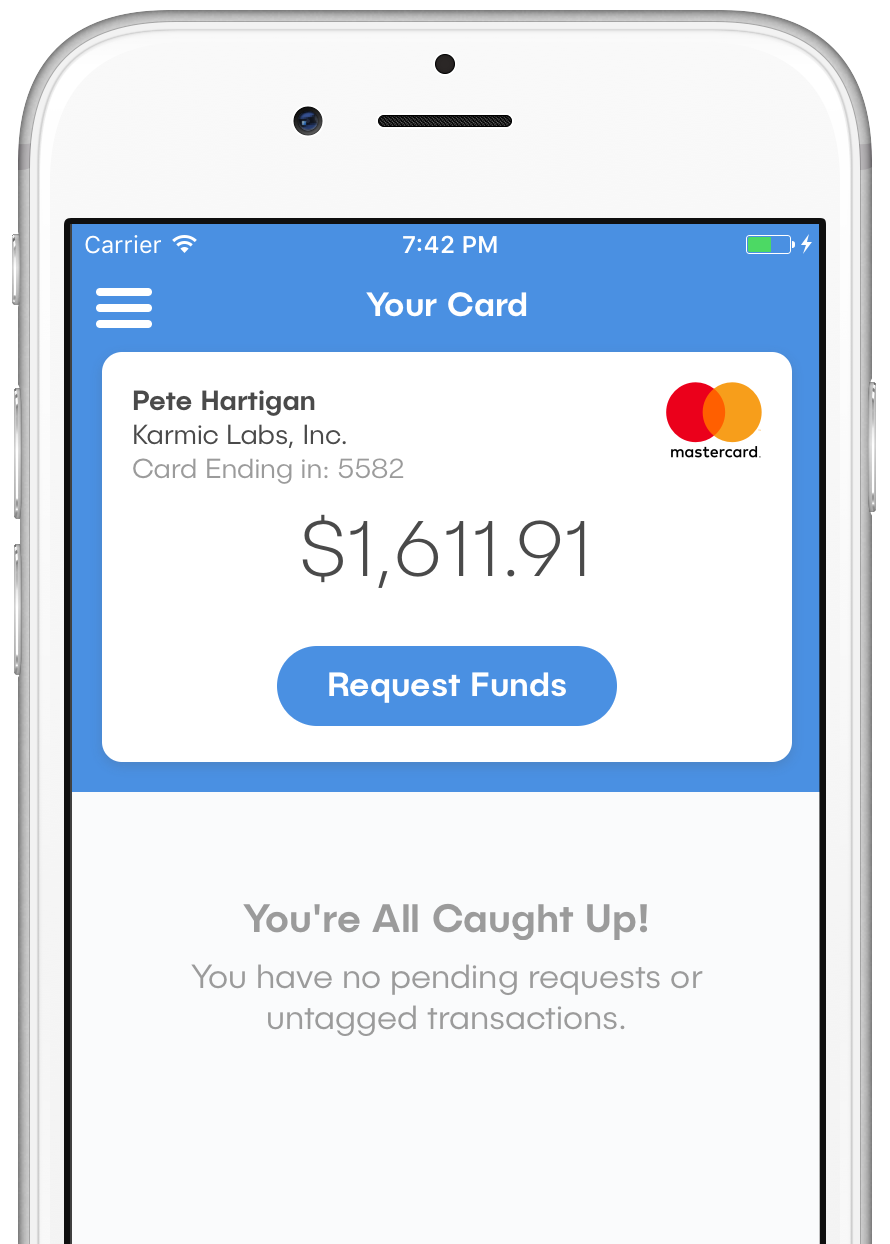 Level 1: Out of the Box: dash
Level 2: Co-branded program
Level 3: Fully Customized